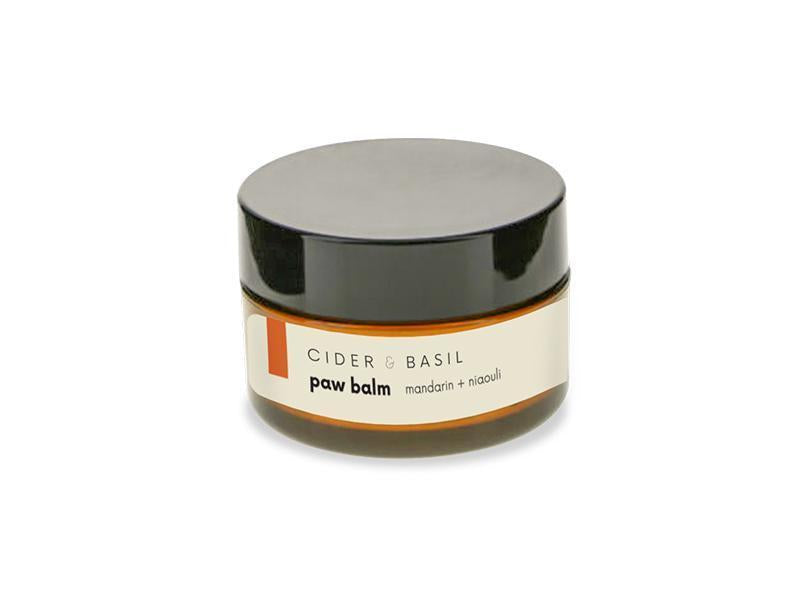 Cider and Basil
Dog Paw Balm - Cold Pressed Mandarin & Niaouli Essential Oils
Dog Paw Balms
Natural Paw Balms are specially formulated to heal rough, dry, chapped paw pads. Helps to relieve inflammation, pain and infections on paws. 
A special blend of Mandarin and Niaouli essential oils, enhanced with Peppermint and Sweet Orange Oils, give it an antiseptic and antibacterial property.
It is good for skin problems, especially those caused by allergies. It is calming, deodorising and flea-repelling. It is gentle and safe, helps to deeply heal, moisturise and nourish the paws, to keep our dogs happy! 
Benefit:
Moisture. Hydrate. Nourish
Properties:
Antibacterial. Antiseptic. Flea-Repelling
How to use: 
Gently apply a small amount onto paw pads as often as needed. We recommend applying it on just before bedtime.
Please note, balm may be harder in colder temperatures and softer in warmer temperatures. If it is hard, simply rub it between palms before applying onto the paw pads. Store out of direct sunlight. 
Ingredients:
Organic Extra Virgin Coconut oil, Butyrospermum Parkii (Shea Butter Refined), Cera Alba (Leatherwood Beeswax), Citrus Reticulate (Mandarin) oil, Citrus Sinensis (Sweet Orange) oil, Melaleuca Viridiflora (Niaouli) oil, Mentha Piperita (Peppermint) oil.