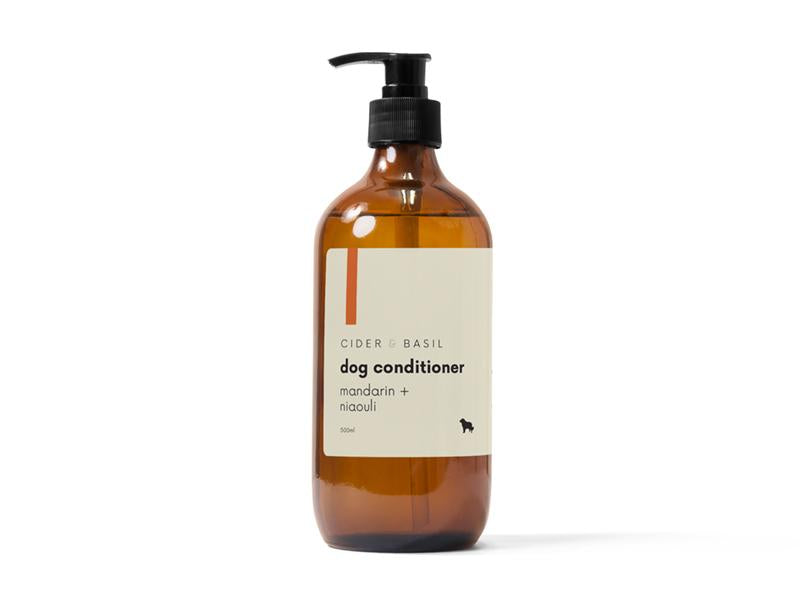 Cider and Basil
Dog Conditioner - Cold Pressed Mandarin & Niaouli
Dog Conditioner - Mandarin & Niaouli
An Uplifting and Refreshing dog conditioner, made with a gentle blend of Mandarin and Niaouli essential oils, to ensure your dog's skin and coat are not only kept clean and healthy, but also repair, restore and nourish your dog's coat.
This unique combination of essential oils have antibacterial, antihistaminic and flea-repelling properties. It is suitable for all skin types, works gently and effectively to keep your dogs fresh and conditioned. 
Rich in Vitamin B5 and Vitamin E 

Benefit:
Repair. Restore. Condition. 
Properties:
Antibacterial. Antihistaminic. Flea-Repelling
How to use: 
Apply on wet fur after shampoo, distribute evenly throughout the dog fur and leave for a few minutes before rinsing off. Do not let it touch the dog's eye or enter the ears. If so, rinse with water immediately. 
Store away from direct sunlight and keep below 30 degrees because of the essential oils. 
To ensure your dog's coat is not stripped of its natural oils, this product is free from sulphates, parabens and toxic chemicals. There are no artificial fragrances used. All scents come naturally from our essential oils. 
Ingredients: 
Distilled Water, Behentrimonium Methosulphate (conditioning emulsifier from grapeseed oil), Organic Argan Oil, Virgin Jojoba Oil, Cosmocil cq (paraben and formaldehyde free preservative), Panthenol Vitamin B5, Vitamin E, Potassium Sorbate, Citrus Reticulate (Mandarin) Oil, Citrus Sinensis (Sweet Orange) Oil, Melaleuca Viridiflora (Niaouli) Oil.